Bram has conducted ensembles at The Ohio State University; in New York City; Hartford, ct; Geneseo, ny; Austin, tx; and in Kansas City, mo. His work has included concert music and opera, instrumental ensembles large and small, and solo vocalists as well as choral groups. He has particular experience conducting collegiate choral singers and adult amateurs.
The Musical Rhetoric Workshop
In the autumn of 2019, Bram founded the Musical Rhetoric Workshop, a symposium for practical, hands-on experience with Baroque techniques of musical expression and drama. "Musical rhetoric" draws on classical and contemporary oratory to treat music like a convincing plea or argument — directed, not at listeners' minds, but at their hearts.
Read more at www.musicalrhetoric.org.
The Ohio State University
As a graduate student at Ohio State, Bram has conducted every choral ensemble at the university's School of Music, as well as the flagship Symphony Orchestra; he will conduct the highest-division wind band in 2023. In the winter and spring of 2022, he served as chorusmaster, coach, and unofficial cover conductor for OSU's annual opera, Griffen Candey's recent Sweets by Kate.
Ensembles at Watkinson School
At Watkinson, Bram conducted the Upper School [grades 9–12] mixed chorus and orchestra, and the middle school ensemble, a mixed choral-orchestral group. All were auditioned. He also coached the extra-curicular Brass Kickers, an Upper School non-auditioned wind/brass jazz band; Vox Wat, the Upper School's auditioned mixed a cappella group; and served as music director for the school's production of Hello, Dolly! in 2019. Alongside leading the school's ensembles, Bram taught composition and general music and designed a music history class on indigenous musicking.
Ensembles under Kent Tritle, New York City, 2016–2017
During the 2016–2017 season, Bram served as professional apprentice to Kent Tritle. He is the first conductor Mr. Tritle has taken on in such a capacity. Working with several ensembles in New York (Musica Sacra, the Oratorio Society of New York, and the performers at St. John the Divine), Bram conducted, prepared parts, helped liason with and contract musicians, played piano, and otherwise aided with rehearsal.
The Cathedral Church of St. John the Divine
St. John the Divine is the seat of the Episcopal church of south-eastern New York. Its music program encompasses three choirs and regular orchestral appearances, alongside the fully professional "Great Music in a Great Space" series.
Bram's work at the Cathedral was among his most diverse in New York. He researched, prepared, and performed music of the Byzantine Empire (in collaboration with Cappella Romana of Portland, or and Hellenic College Holy Cross of Brookline, ma), sung and played Anglican chant, and aided with the rehearsal of anthems from across the choral spectrum, from conducting the music of Charpentier to helping assign ficta in new editions of Dufay. In February 2017 he aided with the preparation and conducting of "Refuge in Music," a concert in solidarity with refugees in the United States, which drew hundreds of performers.
The Associate Director of Music at St. John the Divine, Raymond Nagem, is among Bram's private conducting students.
The Oratorio Society of New York
The Oratorio Society of New York is one of New York City's oldest and most prominent amateur choruses. During the 2016–2018 season, OSNY performed towering repertoire by composers old and new, including Bach's Mass in B minor, Mozart's unfinished masterpiece Mass in C minor, Britten's War Requiem, and Handel's Messiah. Bram conducted and occasionally played keyboard in rehearsal, and aided with the preparation of orchestral materials for performances throughout the year.
Musica Sacra
Musica Sacra, the oldest continuously-performing professional choir in the United States, presented three performances this season: Palestrina's Missa Papae Marcellae (with works by Pärt and Tavener — October), Messiah (December), and Britten's Rejoice in the Lamb (March). Bram minimally assisted these performances by preparing scores and providing input in rehearsal.
Observation
As part of his apprenticeship duties, Bram observed and assisted Mr. Tritle in ensembles led, or co-led, by other conductors. This includes Mr. Tritle's work as guest chorusmaster and organist with the New York Philharmonic Orchestra, his work as a guest artist for the American Symphony Orchestra, his work leading the ensembles of the Manhattan School of Music, and his coaching of the graduate performers of The Juilliard School.
Finger Lakes Opera company
During the 2016 summer season, Bram took apprentice work with Dr. Gerard Floriano at the Finger Lakes Opera, the professional company associated with suny Geneseo. Serving as assistant to Dr. Floriano on the summer's production of Verdi's La Traviata, Bram conducted both soloists and chorus in rehearsal, aided in coaching, composed and orchestrated transitory material for cuts, and developed and ran supertitles. Alongside the tutelage of Dr. Floriano, Bram also received coaching from Linda Boianova and worked on score editing for Mark Walters.
Consort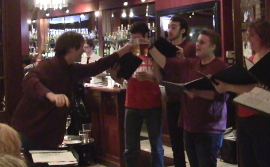 In 2013, Bram founded
Consort
, a mixed chamber chorus dedicated to making classical music an ordinary experience by performing in a popular-music paradigm. Consort gave its concerts exclusively in popular venues — coffeehouses, bars, and indie art galleries — and interacted heavily with its audience to match the atmosphere. Events were publicized through social media, open rehearsals were held complete with pool and sports broadcasts, and listeners were encouraged to chat, text, take video, and come and go as they pleased during performances. The repertoire was almost exclusively classical.
After two successful concert seasons, Consort went on hiatus in 2015; Bram plans to reinstate the ensemble in the New York / New England area. Consort maintains a web archive, so audiences and other musicians can learn about its music and mission. Owing to its complete avoidance of traditional procedures, Bram believes it to be the first choral group of its kind in the United States.
University of Missouri – Kansas City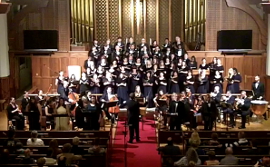 Bram has led three of the choirs at
umkc
in performance. In November 2015, as his Master's recital, he conducted professional soloists and instrumentalists and the university's symphonic town-and-gown chorus in a (somewhat abbreviated) rendition of Handel's
Judas Maccabaeus
. Bram has also regularly conducted in
umkc
's "Bach's Lunch" series, leading graduate and professional performers in J. S. Bach's
Ich steh mit einem Fuß im Grabe
(
bwv
156),
Die Elenden sollen essen
(
bwv
75), and
Mit Fried und Freud ich fahr dahin
(
bwv
125). He has conducted the university's premiere ensemble, the Conservatory Singers, in a pair of movements from Jeffrey Van's
A Procession Winding Around Me
, and the lower-division ensembles in a variety of short pieces from across the choral spectrum.
Village Presbyterian Church
Village Church, the fifth-largest Presbyterian church in the United States, formerly hosted one of the largest traditional church-music programs in the Midwest. From 2014 to 2016, Bram served as Village Church's Intern Conductor, leading music in rehearsals, services, and concerts, including occasionally conducting the church's sixteen-voice brass ensemble. In 2015 Bram was appointed as chorusmaster for the church's production of Vaughan William's Dona Nobis Pacem, performed at the Kauffman Center for the Performing Arts in downtown Kansas City.
Second Presbyterian Church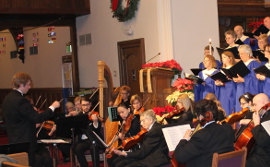 From 2012 to 2014, Bram served as the Director of Music Ministries at
Second Presbyterian Church
in Kansas City, Missouri, directing music in traditional and non-traditional worship. At Second, Bram arranged music in jazz, neo-Medieval, and indie styles, conducted a number of choral-orchestral works, and helped design alternative service offerings. He resigned from his directorship to heal from wrist surgery in 2014.
The Collegium Musicum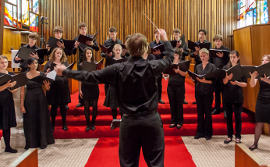 From 2010 to 2012, while a graduate student at the University of Texas at Austin, Bram was the founding Director of the
Collegium Musicum
, an a cappella chamber choir dedicated to repertoire of particular musical, historical, or cultural significance. Under Bram's direction, the Collegium Musicum performed works by — among others — Busnoys, Monteverdi, Schütz, Homilius, Pearsall, Parry, Kodály, and Kagaruki. The group premiered works by Caroline Mallonée and Andy Davis, and, to foster student works, Bram founded the Collegium's annual New Choral Music Initiative. Under Bram's direction, the Collegium Musicum received the Leadership and Ethics Institute's 2012 Swing Out Award for the university's Best Artistic Organization. The ensemble has grown since Bram's tenure, and now tours outside of Texas regularly. It remains the premiere student classical ensemble at
ut
–Austin.
The University of Texas Men's Chorus
Bram served as the Assistant Conductor of the University of Texas Men's Chorus from 2009 to 2011. During his first year, his assistant work fulfilled an independent study under John Wiles, D.M.A.