Bram Wayman is a conductor based in Hartford, Connecticut. Primarily a performer of choral-orchestral repertoire, Bram specializes in Baroque performance practice and in post-classical music, bringing concert repertoire to life for audiences beyond its traditional privileged sphere. Bram is currently the entire music faculty of Watkinson School, Hartford's oldest independent academy, teaching upper and middle school music.
In 2017, Bram completed a year as Kent Tritle's professional apprentice in New York, where he worked with the musicians of the Cathedral Church of St. John the Divine, the Oratorio Society of New York, and Musica Sacra. He has also apprenticed with Dr. Gerard Floriano and the Finger Lakes Opera. Bram holds a Master's degree in conducting from the Conservatory of the University of Missouri–Kansas City, where he studied with Dr. Robert Bode, a Master's degree in composition from the University of Texas at Austin, and an undergraduate degree in Music (intensive, with honors) from Yale. He currently studies organ and continuo with Raymond Nagem.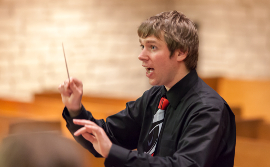 Bram has worked with performers of a wide range of skill levels, and has primarily programmed challenging repertoire. His students at Watkinson have performed works by Handel, Finzi, Parry, Dett, Nielsen, and Mozart, and work directly from primary source materials on rhetoric and performance practice. Under Mr. Tritle, Bram prepared and performed music from the Byzantine, Anglican, and oratorio repertoires from ancient times to the present day, including such choral-orchestral works as Britten's War Requiem and Bach's B minor Mass. His studies under Dr. Robert Bode culminated in a performance of Handel's Judas Maccabaeus and a Master's thesis (currently being expanded into a book) explicating the conducting of Baroque works through the lens of Purcell's Dido and Aeneas.
Revolutionary approaches to classical performance have long been central to Bram's work. In 2013, he founded a post-classical chorus in Kansas City, Consort, which performed exclusively in a popular-music paradigm, choosing bars and coffeehouses, noisy audiences, casual dress, and social media over the trappings of the traditional concert hall. In 2010, in Austin, tx, Bram founded the Collegium Musicum, a chamber chorus that performed under-represented repertoire in intellectually stimulating environments. The Collegium Musicum has grown since Bram's tenure; touring regularly throughout the southern United States, it remains the premiere student classical ensemble at the University of Texas at Austin.
Bram has performed in more traditional venues for years, in the Christian church as well as in his university work. He formerly served as Conductor Intern at Kansas City's Village Church, researching and performing music in one of the largest church music programs in the Midwest, and as the Director of Music Ministries at Second Presbyterian Church.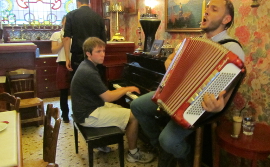 As a composer, Bram has written chamber, choral, symphonic, and incidental music. At the University of Texas, his music has been performed on several clutch concerts, student recitals, and independent new music concerts, as well as in several concerts by the Collegium Musicum. Yale's stages presented his music through Yale College New Music, the Yale Glee Club and its Chamber Singers, the Dramat, igigi, and more.
Born in 1986, Bram has studied music from an early age. His additional interests include poliical theory, typography, baking, and the environment.
Recognitions
Conductor (invited at the highest level) of

dciny

's workshop, "The Complete Conductor: Orchestral Conducting for the Choral Director," January 2017
Recipient of a scholarship from the Oregon Bach Festival to audit the Conducting Masterclass, summer 2015
Invited to sit on a panel on arts outreach and twenty-first century audiences,

consvty

351 (

The Artist in Society

), November 2014.
Selected to speak on post-collegiate work (topic: post-classical music and Consort), forum for Yale graduates, May 2014.
Swing Out Award for Best Artistic Organization, 2012, awarded by the University of Texas Leadership and Ethics Institute for exceptional merit in student leadership. The Collegium was awarded this honor in its first year as a registered student organization.
Twice member, Phi Kappa Phi honor society (University of Texas and UMKC chapters), 2010–2012 and 2016.
Winner, Fenno Heath Award, 2008, for the composition of a new Yale Song.
Winner, Abraham Beekman Cox Prize, 2008, awarded to the most promising and gifted composer(s) in the junior class.
Winner, Joseph Lentilhon Selden Memorial Award, 2008, awarded to juniors "whose verve, idealism and constructive interest in music and the humanities exemplify those qualities for which Joseph Lentilhon Selden is remembered."
Winner, Shen Prize, 2005–2006, awarded to students whose musical merit allowed them to take part in the Shen Musical Theatre Composition Project, an extracurricular study of composition for the musical theatre now a permanent part of the Yale College curriculum.